Antik Breeze MG2 Reactor Neo Aluminum Plate (FREE SHIPPING)
Bad Girlfriend Roller Skates New Skater packages include your skates, Choice of Atom, Smith Scab or Triple Eight knee pads, elbow pads, wrist guards, Triple Eight Brainsaver Dual Certified Helmet and SISU mouthguard (we will not sell you junk boil and bite mouthguards! We won't even give them away free because they are garbage!) If you already have a dental mouthguard we even offer $20 deduction so you are not forced to buy one.
Bad Girlfriend Skates also offers you lots of price saving upgrades! Upgrading now saves you money now. We promise amazing prices and MORE options than any other skate shops. We are your ONE STOP skate shop!!
THE ONLY THING WE HIGHLY RECOMMEND IN OUR NEW SKATER PACKAGES IS - UPGRADE YOUR KNEEPADS - PAY THE EXTRA $25 TO $45 AND YOUR KNEES WILL LOVE YOU!
The MG2 as it is being discontinued. Stock will be adjusted as we sell out each size.

Antik MG2 Breeze Roller Skate with PowerDyne's 10-degree aluminum Reactor Neo plate. The Neo is strong, stable, and built to maximize the power transfer of your stride.
Antik MG2 Boot Features:
High cut leather uppers for added ankle support and secure fit

Redesigned fully enclosed, contoured padded leather tongue

All new 'Ergo-Form' last for a more anatomical fit, and to reduce toe pinch.

All new open toe design for better fit and comfort

Dri-lex interior lining

Standard fiber counters

All new lace loops at the back of heel for added fit and security

Redesigned achilles area

Integrated shock absorbing heel

Contoured heel cup for secure fit and reduced lift

Composite rubber outsole, stitched for durability

Standard fabric insoles

Available in whole and half sizes

US size 3-13
SIZING <------- this is VERY important
Skates Are In Men's Sizes
(Ladies Go Down One Size)
Ladies Shoe Size 8 = Man Skate Size 7
Powerdyne Reactor Neo Aluminum Plate
Heat-treated lightweight extruded aircraft aluminum plate

10 degree kingpin angle for enhanced STABILITY

Click action lock nuts for the kingpins

Steel rod reinforced pivot arms and durable done piece Delrin pivot cups

Solid 7075 aluminum kingpins

rounded front of truck for less scratching on the floor
Gum Ball Roller Derby Toe Stops by GRN MNSTR or upgrade to Superball Gumball Toe Stops by GrnMnster
Great Selection of Wheels - (Confirm with league what wheels you need for surface you are skating on so you have the right wheels for your practice space)
Bad Girlfriend Skates is the only shop that gives you SO MANY wheel choices. If it's not on here email and ask for a quote and change to your package. The pusher wheel is your inside wheel that will hug the inside of the track helping you stick. Your breaker wheel is your outside wheel. You can pick the same wheel as your pusher or try one durometer up/same brand. Example would be 86A Halo as your pusher and 88A Halo as your breaker. Have two different sets allows you to add to your wheel collection the 91A and 95A next so you travel with 16 wheels being ready for all floors of the venues you visit and SAVES YOU MONEY!!!

The "durometer" or "hardness" of the wheel is indicated by the number followed by an "A".
The "A" is the type of scale that is used to determine the hardness or softness of a wheel.
The lower the number the softer the wheel, the higher the number, the harder the wheel.
Reckless Morph Wheel features a thoroughly tested and proved dual "stacked" urethane that delivers maximum speed, precise grip, and reliable stability. This innovative process allows the fusion of a performance speed compound for fast roll, with a softer compound at the edge of the wheel allowing for better edge control. The "stacked" technology gives you the best of both worlds without the hassle of constantly changing wheels. The structural integrity of the link core improves skating speed and response — an essential element in today's derby and roller sports. By merging all the elements, the new morph is the most innovative and dynamically technical wheel in derby today. Better traction on straight-aways, reduces slippage on corners, while still allowing for controlled slide in plow stops.
Green Core: Orange 88a / Pink 84a

Pink Core: Yellow 91a / Orange 88a

Purple Core: Blue 93a / Orange 88a

Blue Core: Dark Yellow 95a / Yellow 91a

Yellow Core: Green 97a / Blue 93a
Reckless Morph Solo Roller Derby Wheel

Reckless Morph Solo roller derby wheel is a single durometer wheel with all the high quality features of a Morph Classic.
same great link core

same great formula

same speed and grip
Solid edges give consistent roll without the grippy 'tracking' allowing a controlled slide / 'break'.
Reckless Envy Wheel gives you great grip and roll for all kinds of surfaces, from unpolished concrete to the slickest wood floors and dirty sport tiles. Use Reckless Envy as pushers or mix with the Reckless Evader or Ikon for extra traction. Reckless Envy are also a great alternative to standard outdoor wheels, providing excellent roll and grip on asphalt, cement, outdoor skate parks, and tennis courts
59mm tall x 38mm wide

62 mm tall x 38 mm wide
Protective Gear included in your new skater package:
Your New Skater Package includes choice of standard pads from Atom, Smith Scabs or Triple Eight(you can click on items you like and the website will take you to that item):
| | | | | | | | |
| --- | --- | --- | --- | --- | --- | --- | --- |
| SIZING | XXS | XS | SMALL | MEDIUM | LARGE | X LARGE | 2X LARGE |
| SUPREME KNEE | 8 - 10" | 10 - 12" | 12 - 14" | 14 - 15" | 15 - 17.5" | 18 - 20" | 20 - 23" |
| SUPREME ELBOW | 5.5 - 7" | 7 - 8" | 8 - 9.5" | 9.5 - 11.5" | 12 - 13.5" | 13.5 - 14.5" | N/A |
| ELITE WRIST PALM GUARD | N/A | 4.5 - 5" | 5 - 6.0" | 6.0 - 6.5" | 7.0 - 7.5" | 8.0 - 8.5" | N/A |
Measure leg and or arm circumference at knee cap/elbow joint, measure wrist circumference

OR
SMITH DERBY KNEE
SMITH WRIST
SMITH ELITE ELBOW

SMALL

12 - 14"

SMALL

6 - 7"

X SMALL

4 - 6"

MEDIUM

14 - 16"

MEDIUM

7 - 8"

SMALL/MEDIUM

5 - 7"

LARGE

15 - 17"

LARGE

8 - 9"

LARGE/X LARGE

7 - 10"

X LARGE

17 - 20"

X LARGE

9.5 - 11.5"

2X LARGE

20 - 23"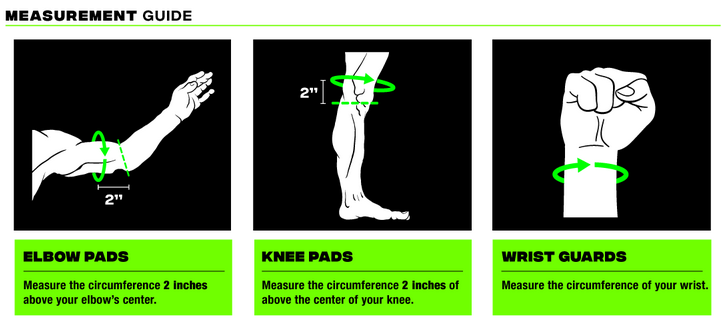 OR
Triple Eight Saver Series Wrist Saver
| | | | | | |
| --- | --- | --- | --- | --- | --- |
| | KP22 Knee | KP Pro (Upgraded Knee) | EP55 Elbow | Saver Series Wrist guard | Roller Derby Wrist guard |
| X Small | 11 - 12.5" | N/A | 5 - 6" | 7.0 - 7.5" | N/A |
| Small | 12.5 - 14.5" | 12.5 -14.5" | 6 -8" | 7.5 - 8" | 7 - 8" |
| Medium | 14.5 - 16" | 14.5 -16" | 8 - 10" | 8 - 9" | 8 - 9" |
| Large | 16 - 17" | 16 - 17 | 10- 12" | 9 - 10" | 9 - 10" |
| X Large | 17 - 19.5" | 17 - 19.5" | 12 - 14" | N/A | N/A |
Triple Eight KP22 Knee Pads Sizing (measure circumference of extended knee)
Triple Eight EP55 Elbow Pads (Elbow circumference with outstretched arm)
Triple Eight Saver Series Wrist Guard (measure hand circumference at the knuckles)
We highly recommend you upgrade your kneepads to: (4 UPGRADES AVAILABLE)
Triple Eight KP Pro Knee Pads Sizing
(measure circumference of extended knee) see size chart above
What is the difference between Pro Knee Pad and Pro Derby Knee Pad?
The Pro Knee Pad is a bigger pad over-all and the bend/shape is fixed on the perfect angle to cup your knee when you fall. The Pro Knee Pad is made of 1 ½" thick foam.
The Pro Derby Knee Pad has a one of a kind flex hinge. It has the same bend at the knee as the Pro Knee Pad, but the flex hinge allows the pad to move with your leg. The over-all sizing is also smaller. The Pro Derby Knee Pad is made of 1 ¼ " thick foam.
Note: Measure approx 1.5" above and below knee
| | | |
| --- | --- | --- |
| SIZE | TOP OPENING | BOTTOM OPENING |
| X SMALL | 11" - 14" | 10 - 13" |
| SMALL/MEDIUM | 13 - 16" | 12 - 15" |
| LARGE/X LARGE | 15.5" - 18.5" | 14.5 - 17.5" |
Wrist Guard Upgrades:
Triple Eight Roller Derby Wrist Guard
measure hand circumference at the knuckles and match to the sizes listed below
S 7.0 – 8.0 in
M 8.0 – 9.0 in
L 9.0 – 10.0 in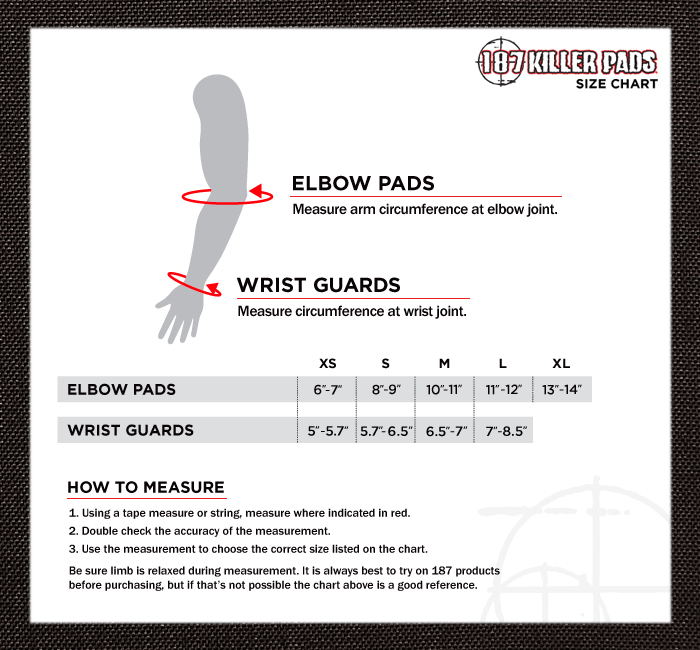 187 Pro Roller Derby Elbow Pads
What is the difference between the three styles of 187 elbow pads?
The Standard Elbow is the original and more traditional design of elbow pad and best seller. It has a ½" of foam.
The Slim Elbow Pad is a smaller, more compact elbow pad, with a fixed bottom strap. The Slim Pad still offers great protection with a ½" of foam.
The Pro Elbow Pad is a larger, more thick and bulky pad for those who want max protection for their elbows. It has a 7/8" of foam.
TSG Derby Girl All Terrain Knee Pad
•Women specific design
•Sleek and ergonomic design
•Shock absorbing EVA padding
•Fixed full coverage PE shell
•Top and bottom Velcro straps for optimum adjustment
•Pull-over design
TSG DERBY GIRL KNEE PAD

Top Circum.

Bottom Circum

Small

13-15.25"

12.25-13.5"

Medium

14.5 -17"

13-14.25"

Large

15.75-18.5"

13.75-15.25"
Your New Skater Package also includes:
Triple Eight Brainsaver Dual Certified with EPS Liner Helmet



To ensure a perfect fit, measure the circumference of your head starting in the middle of your forehead and match it with the sizes below.
| | | |
| --- | --- | --- |
| XS/S | S/M | L/XL |
| 18.9-21.3in (48-54cm) | 21.7-22.8in (55cm-58cm) | 23.2-24in (59-61cm) |
Package also includes SISU Go Mouth Guard FREE

The SISU GO is a thin, flexible mouthguard made to be discreet and comfortable while protecting where most dental injuries happen. Equipped with Diffusix™ Technology, the perforations in SISU GO oscillate on impact and diffuse the forces to the scientifically designed crumple zones. The perforations also allow for natural flow of air and saliva, empowering athletes to talk, breathe and drink in sports where communication and hydration are key. A little dental protection goes a long way with SISU GO.
Details:
Shorter guard

Extreme comfort

Essential coverage for the minimalist

Ages 11+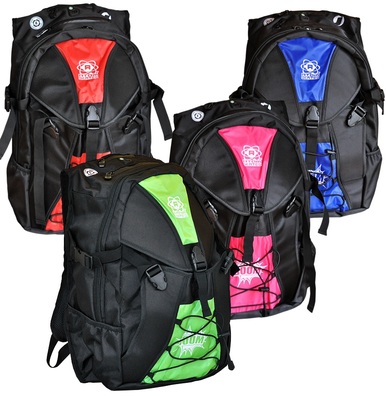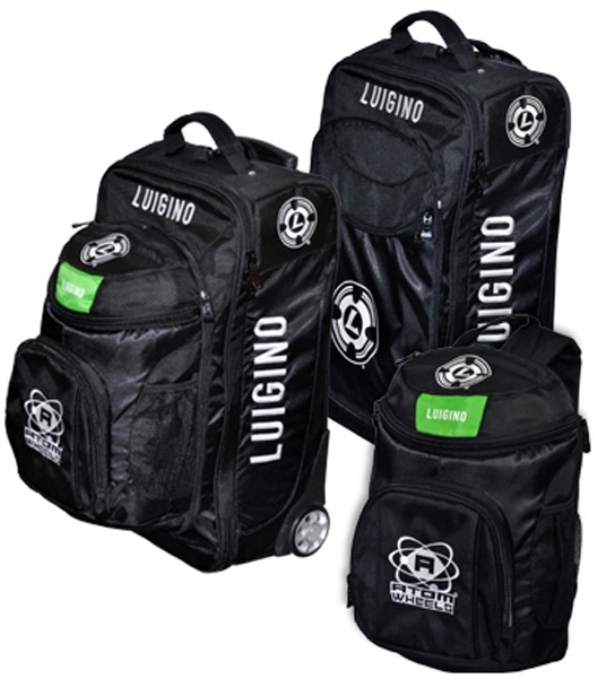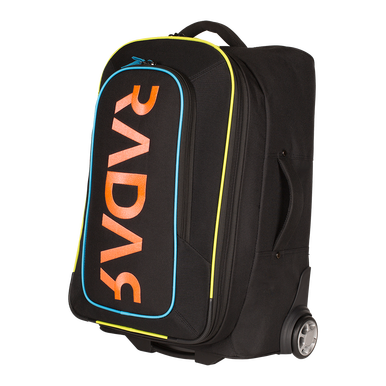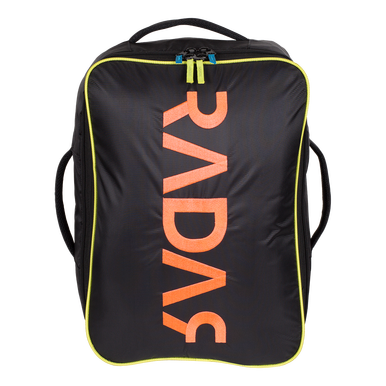 Sizing
AR1 and MG2: Antik suggest going down 2 whole sizes from your Riedell size but it has been found most people are half a size down from their Riedell size. The chart below has been made with the 'half a size lower than Riedell' in mind. If you prefer a bit of extra room, add a little extra to the measurement. My feet measure 25.4 cm and I fit the size 7.5 and an 8 in Riedell boots.
To determine your length - In a standing position and on a flat surface place your heel against a wall and take a ruler or tape measure and lay it next to your foot. Measure from your longest toe to your heel. It is best to do this measurement with both feet in case one foot may be slightly longer than the other.
All Antik boots are made on a D/B last which means a D width ball and a B width heel.

| | | | | | | | | | | | | | | | | | | | |
| --- | --- | --- | --- | --- | --- | --- | --- | --- | --- | --- | --- | --- | --- | --- | --- | --- | --- | --- | --- |
| Boot Size | 3 | 3.5 | 4 | 4.5 | 5 | 5.5 | 6 | 6.5 | 7 | 7.5 | 8 | 8.5 | 9 | 9.5 | 10 | 10.5 | 11 | 12 | 13 |
| Interior Length (cm) | 21.5 | 22 | 22.5 | 22.9 | 23.3 | 23.8 | 24.1 | 24.6 | 25.1 | 25.4 | 25.9 | 26.4 | 26.7 | 27.1 | 27.6 | 28 | 28.4 | 29.2 | 30 |