Bont Prostar Boot Build this skate how you would like - pick your plate and wheels
A skate designed to be light, responsive and heat moldable. A skate designed for you.
The thermoplastic in the heel allows you to mold your boot with a hairdryer to obtain a custom fit in under 10 minutes. This is especially good for skaters with skinny or wide ankles.
The boot is made with microfiber and features replaceable rubber bumper toe protection, an adjustable velcro top strap and rear heel loop to put your laces through.

Features
Base: Fiberglass
Outer skin: Microfiber
Liner: Microfiber
Boot height: High
Heel rise: 6mm
Innersole: EVA with fabric
Heat moldable: Fully heat moldable base utilizing epoxy thermoset resin
Padding: Memory foam
Size options: 1 - 12.5
Fit options: Standard
Anti-Stretch
Between the outer skin and the liner, we add a material that is proprietary to Bont to stop the boot from stretching over time. This material has similar strength characteristics to Kevlar. This material is stitched to the outer skin and bonded to the liner so it can never move or be removed, it becomes part of the boots structure. This layer is the reason that Bont boots do not stretch out as much as other brands of boots over time.
Last Design
A last is a plastic replica of a foot that the boot is built around. At Bont, we have been perfecting our lasts since 1975 and the process is ongoing. Unlike the standard shoe last many companies use, we put extra effort into creating and developing our lasts so that they fit right out of the box.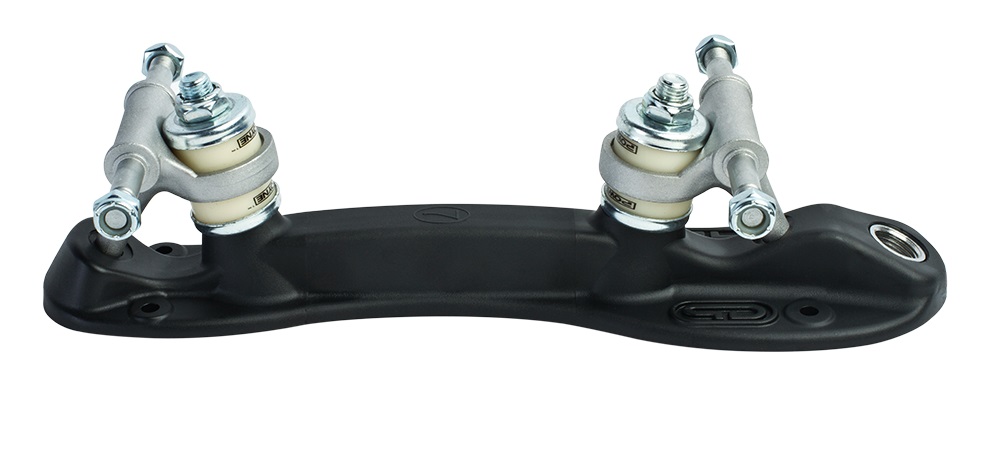 The PowerDyne Thrust Plate is a durable black nylon plate with polished metal trucks for exceptional performance. The lightweight plate accepts adjustable toe stops, toe plugs or bolt-on toe stops (sold separately). It is a great option for those looking for a lightweight entry-level plate
Features
Reinforced durable nylon plate

15 degree kingpin angle for enhanced power transfer

Metal Trucks

Accepts Adjustable Stops

8mm Truck Axles

Accepts adjustable stops, jam plugs
The Reactor Fuse Plate, is a great solution for skaters looking for exceptional performance at a great value. The lightweight nylon Fuse plate is reinforced with fiberglass to offer incredible strength and durability. Skaters won't need to worry about their toe stops falling out as the Fuse comes with an integrated aluminum toe stop insert that securely locks toe stops in place with a 5mm Allen bolt. The kingpins are set at 10-degrees for superior power, stability and stopping control. The Fuse features our precise click action kingpin adjustment nuts to take the guess work out of cushion adjustment. The Reactor Fuse is perfect for beginner and intermediate skaters, or veterans looking for a lightweight and durable plate offering exceptional value.
PowerDyne Reactor Neo Plate is a performance aluminum plate replacing the Rival Plate. This plate shares many of the same design elements as the Reactor Pro but at a fraction of the cost.The 10° kingpin promotes more power and stability when compared to the 15°+ plates on the market.The kingpin features click-action adjustment for precise customization, while the trucks are two-piece fixtures with lightweight aluminum hangars and chromoly steel axles.
The Reactor Neo parts are compatible/interchangeable with the Reactor Pro plates.
10 Degree Kingpin Angle

"Click" Action Adjustment

1 Pieces Delrin Pivot Cups

Rounded Toe Edge Design

Silver Anodized Finish

Parts 100% compatible with Reactor Pro Series