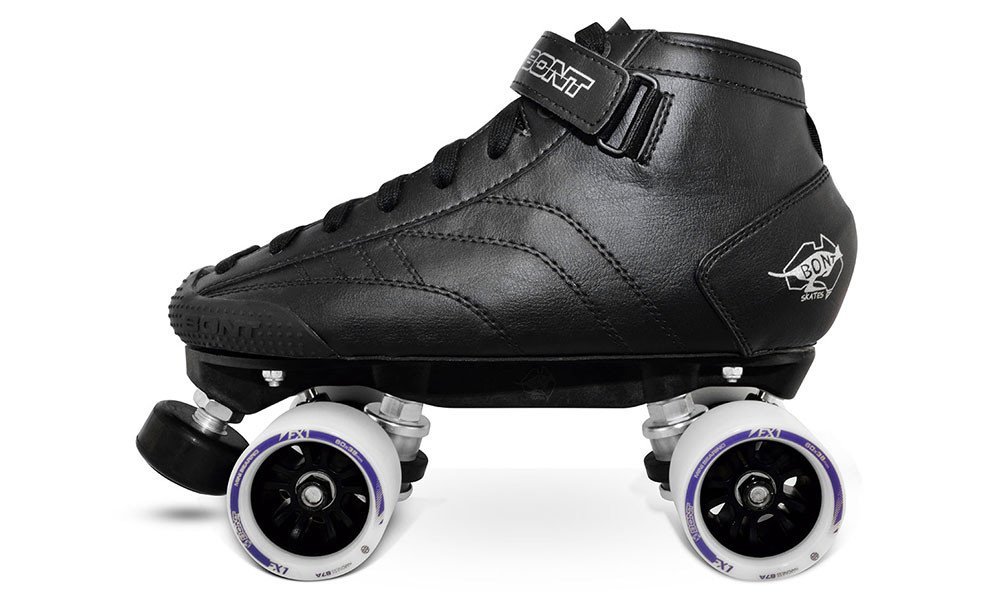 Skates should be an extension of your body, natural on your feet not heavy, cumbersome or painful! The Bont Prostar skate was designed to be light, responsive and is heat moldable to fit every curve of your foot. The Bont Prostar is a high end, heat moldable fiberglass boot with high end wheels and bearings.
Entry level skate with nice round fit to the toe, well suited for a wider foot.
Microfiber boot

Built in toe protector

FIberglass reinforced Ignite plates or Tracer Plate


FX1 wheels
Heat Moldability
The Prostar boot is made with thermoplastic in the heel. This is especially good for skaters with skinny or wide ankles as it allows you to mold your boot with a hairdryer to obtain a custom fit in under 10 minutes.

Light Weight
The FX1 is an ultra light weight, ultra high performance wheel. The wheel and bearings combine to create the lightest wheel/bearing combination on the market. The hub is wrapped with premium high rebounding urethane. The bearings come ready to use with light racing oil inside.

Ignite Plate
The Ignite plate is now fiberglass reinforced so it can take even more of a beating. It is very light weight and has a 20 degree action with high end cushions.
FX1 Wheels
87
A -
60mm x 38mm or 92
A -
60mm x 38mm
The FX1 is an ultra light weight, ultra high performance wheel with super high rebound urethane combined with a unique mini bearing hub.
Sizing Info
Speed skates are a high performance apparatus so it is not always easy to have one size chart that will please everyone because some skaters like their skates tighter than others. What Bont has done is provide you with the exact last sizes in the chart above and you can use it to determine your Bont size. As a basic rule, most skaters like their boots to be 3-4mm longer than the last. This allows for your feet to grow in length when the boots are tightened. If you like your boots super tight, then just add 1-2mm but be warned, your toes will touch the end and possibly be scrunched.
Bont has added a new row called WIDTH. It makes it easy to determine if you have wide or narrow feet. For example, a size 4 boot will fit a 86 - 90mm wide foot. If you have a 91mm wide foot, then you would probably be better off with a wide boot.
To find your size, place a tape measure on a flat surface up against a wall. Stand on the tape measure with your heel against the wall. Look down and take the measurement from your longest toe. Then use the MM scale on the size chart to find your size.
Here are some examples of mm sizes for speed skates and the boot size recommended:
253mm + 4mm you should order size 6.5
268mm + 4mm you should order size 8
273mm + 4mm you should order size 9
291mm + 4mm you should order size 11.
Bont Sizing Wizard Link to size your foot :
http://www.bont.com/quad/items/support/size.html
Heat Molding for Bont Boots
http://www.bont.com/inline/items/support/heat-molding.html
Bont skates are the most heat moldable skates on the market. Our resin is developed in house and has been perfected over 35 years to be an extremely stiff resin that becomes pliable at relatively low temperatures. You may have tried heat molding other brands of boots and found that you needed to increase the temperature to try to get it to mold. That is not the case with your Bont boots and we urge you to start with low temperatures.
The base of the boot is moldable which means all stiff areas of the boot can be molded in a standard oven. This is unlike most boots on the market which have uppers that are moldable. You do not need to mold your boots if they fit you straight out of the box. To mold your boots, remove the wheels. You can leave the frame on if you wish. Pre heat the oven to 85°C/185°F. Place the boot in the oven for 15-20 minutes. Higher temperatures will void your warranty and may damage your boot. Caution: Do not place your feet in the hot boots or you may burn your feet. Let them cool a little and test the boot temperature with your hand before placing your feet in them. Tighten the straps/laces/buckles and allow to cool. If you have any lumps or bunions on your feet or if there are any areas causing discomfort, while the boot is still warm you can use the round end of a blunt object to press out any part of the boot. You can heat mold the boots as many times as you like. Please watch this quick video below to see how it's done.
Heat Molding FAQ: If the boots take 20 minutes to mold at 85°C, can I put them in the oven for 10 minutes at 170°C? The answer is no. Please stick to the guidelines and your boots will not be damaged.
Bonts Prostart Roller Skate

Just love my Bonts!! This is my first pair of roller skates and I am not disappointed. The assistance I had was great and made sure I had the right size of skate before shipping them to me.