Bont Quadstar New Skater Package (FREE SHIPPING)
Bad Girlfriend Roller Skates New Skater packages include your skates, Choice of Atom, Smith Scab or Triple Eight knee pads, elbow pads, wrist guards, Triple Eight Brainsaver Dual Certified Helmet and SISU mouthguard (we will not sell you junk boil and bite mouthguards! We won't even give them away free because they are garbage!) If you already have a dental mouthguard we even offer $20 deduction so you are not forced to buy one.
Bad Girlfriend Skates also offers you lots of price saving upgrades! Upgrading now saves you money now. We promise amazing prices and MORE options than any other skate shops. We are your ONE STOP skate shop!!
Bad Girlfriend Skates is currently clearing this skate with the ignite plate - use the code found on socail media for $50 discount.

THE ONLY THING WE HIGHLY RECOMMEND IN OUR NEW SKATER PACKAGES IS - UPGRADE YOUR KNEEPADS - PAY THE EXTRA $25 TO $45 AND YOUR KNEES WILL LOVE YOU!
Bont Quadstar Roller Skate breaks the mold of what materials an entry level skate should be made from and it takes performance beyond most brands high end boots.
The Bont Quadstar Roller Skate boot is made with thermoplastic in the heel. This is especially good for skaters with skinny or wide ankles as it allows you to mold your boot with a hair dryer to obtain a custom fit in under 10 minutes.
The boot is made with 100% Genuine Australian leather which is tough enough to take whatever you can dish out. The boot features an adjustable Velcro top closure to hold your foot tight and a rear heel loop to put your laces through.
The 3/4 height boots have a wide, ergonomic toe box. They offer ankle support, but are still flexible enough so they don't restrict movement for hockey stops or deep plow stops.

Bont Quadstar Roller Skate boot offers higher performance and a better fit because it is actually shaped like your actual foot shape.
Bont Ignite Plate is fiberglass reinforced so it can take even more of a beating when mounted to your Bont boot.

These plates have a 20 degree action, 8mm axles and high end cushions.
Fiberglass reinforced plastic baseplate

20 degree kingpin

Derlin pivot cups

Speed skates are a high performance apparatus so it is not always easy to have one size chart that will please everyone because some skaters like their skates tighter than others. What Bont has done is provide you with the exact last sizes in the chart above and you can use it to determine your Bont size. As a basic rule, most skaters like their boots to be 3-4mm longer than the last. This allows for your feet to grow in length when the boots are tightened. If you like your boots super tight, then just add 1-2mm but be warned, your toes will touch the end and possibly be scrunched.
Bont has added a new row called WIDTH. It makes it easy to determine if you have wide or narrow feet. For example, a size 4 boot will fit a 86 - 90mm wide foot. If you have a 91mm wide foot, then you would probably be better off with a wide boot.
To find your size, place a tape measure on a flat surface up against a wall. Stand on the tape measure with your heel against the wall. Look down and take the measurement from your longest toe. Then use the MM scale on the size chart to find your size.

Here are some examples of mm sizes for speed skates and the boot size that we would recommend:
253mm + 4mm you should order size 6.5
268mm + 4mm you should order size 8
273mm + 4mm you should order size 9
291mm + 4mm you should order size 11.
Bont Sizing Wizard Link to size your foot

Please use the above link for accurate sizing. This package includes free shipping but all exchanges are postage paid by customer. Please ensure you get right size.
The Ballistic wheel is easy to break in, has a high rebound, high grip and great wear properties.

FX1 Wheels
The FX1 is an ultra light weight, ultra high performance wheel with super high rebound urethane combined with a unique mini bearing hub.
Protective Gear included in your new skater package:
Your New Skater Package includes choice of standard pads from Atom, Smith Scabs or Triple Eight(you can click on items you like and the website will take you to that item):
| | | | | | | | |
| --- | --- | --- | --- | --- | --- | --- | --- |
| SIZING | XXS | XS | SMALL | MEDIUM | LARGE | X LARGE | 2X LARGE |
| SUPREME KNEE | 8 - 10" | 10 - 12" | 12 - 14" | 14 - 15" | 15 - 17.5" | 18 - 20" | 20 - 23" |
| SUPREME ELBOW | 5.5 - 7" | 7 - 8" | 8 - 9.5" | 9.5 - 11.5" | 12 - 13.5" | 13.5 - 14.5" | N/A |
| ELITE WRIST PALM GUARD | N/A | 4.5 - 5" | 5 - 6.0" | 6.0 - 6.5" | 7.0 - 7.5" | 8.0 - 8.5" | N/A |
Measure leg and or arm circumference at knee cap/elbow joint, measure wrist circumference

OR
SMITH DERBY KNEE
SMITH WRIST
SMITH ELITE ELBOW

SMALL

13 - 14"

SMALL

6 - 7"

X SMALL

4 - 6"

MEDIUM

14 - 15"

MEDIUM

7 - 8"

SMALL/MEDIUM

5 - 7"

LARGE

16 - 17"

LARGE

8 - 9"

LARGE/X LARGE

7 - 10"

X LARGE

17 - 18"

X LARGE

9.5 - 11.5"

2X LARGE

19 - 20"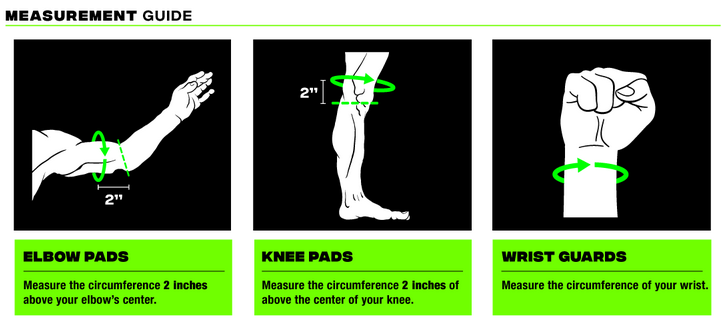 OR
Triple Eight Saver Series Wrist Saver
| | | | | | |
| --- | --- | --- | --- | --- | --- |
| | KP22 Knee | KP Pro (Upgraded Knee) | EP55 Elbow | Saver Series Wrist guard | Roller Derby Wrist guard |
| X Small | 11 - 12.5" | N/A | 5 - 6" | 7.0 - 7.5" | N/A |
| Small | 12.5 - 14.5" | 12.5 -14.5" | 6 -8" | 7.5 - 8" | 7 - 8" |
| Medium | 14.5 - 16" | 14.5 -16" | 8 - 10" | 8 - 9" | 8 - 9" |
| Large | 16 - 17" | 16 - 17 | 10- 12" | 9 - 10" | 9 - 10" |
| X Large | 17 - 19.5" | 17 - 19.5" | 12 - 14" | N/A | N/A |
Triple Eight KP22 Knee Pads Sizing (measure circumference of extended knee)
Triple Eight EP55 Elbow Pads (Elbow circumference with outstretched arm)
Triple Eight Saver Series Wrist Guard (measure hand circumference at the knuckles)
We highly recommend you upgrade your kneepads to: (4 UPGRADES AVAILABLE)
Triple Eight KP Pro Knee Pads Sizing
(measure circumference of extended knee) see size chart above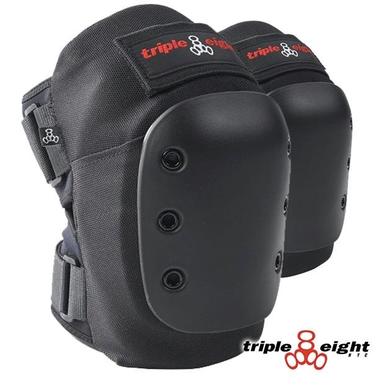 What is the difference between Pro Knee Pad and Pro Derby Knee Pad?
The Pro Knee Pad is a bigger pad over-all and the bend/shape is fixed on the perfect angle to cup your knee when you fall. The Pro Knee Pad is made of 1 ½" thick foam.
The Pro Derby Knee Pad has a one of a kind flex hinge. It has the same bend at the knee as the Pro Knee Pad, but the flex hinge allows the pad to move with your leg. The over-all sizing is also smaller. The Pro Derby Knee Pad is made of 1 ¼ " thick foam.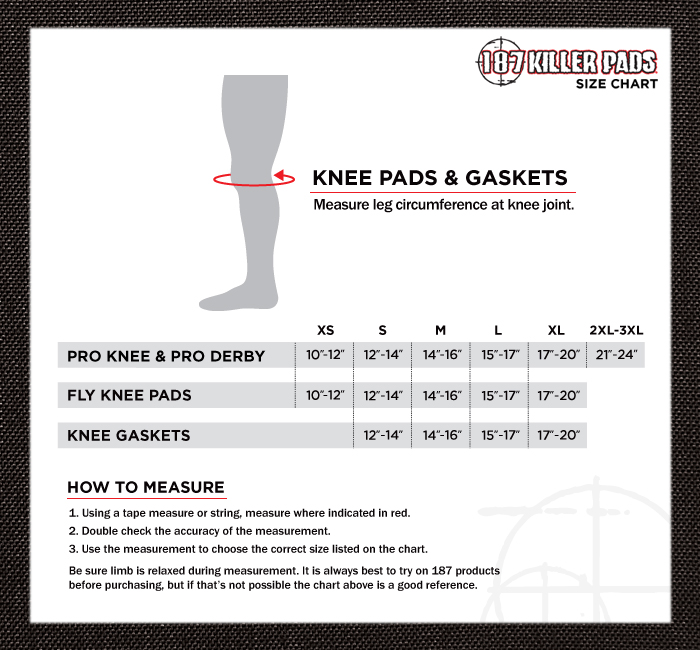 Note: Measure approx 1.5" above and below knee
| | | |
| --- | --- | --- |
| SIZE | TOP OPENING | BOTTOM OPENING |
| X SMALL | 11" - 14" | 10 - 13" |
| SMALL/MEDIUM | 13 - 16" | 12 - 15" |
| LARGE/X LARGE | 15.5" - 18.5" | 14.5 - 17.5" |
Wrist Guard Upgrades:
Triple Eight Roller Derby Wrist Guard
measure hand circumference at the knuckles and match to the sizes listed below
S 7.0 – 8.0 in
M 8.0 – 9.0 in
L 9.0 – 10.0 in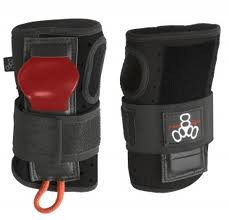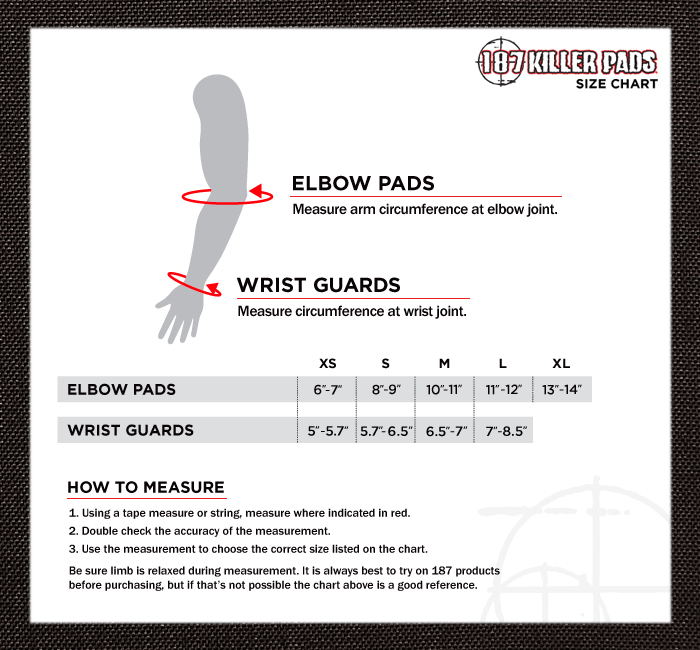 187 Pro Roller Derby Elbow Pads
What is the difference between the three styles of 187 elbow pads?
The Standard Elbow is the original and more traditional design of elbow pad and best seller. It has a ½" of foam.
The Slim Elbow Pad is a smaller, more compact elbow pad, with a fixed bottom strap. The Slim Pad still offers great protection with a ½" of foam.
The Pro Elbow Pad is a larger, more thick and bulky pad for those who want max protection for their elbows. It has a 7/8" of foam.
TSG Derby Girl All Terrain Knee Pad
•Women specific design
•Sleek and ergonomic design
•Shock absorbing EVA padding
•Fixed full coverage PE shell
•Top and bottom Velcro straps for optimum adjustment
•Pull-over design
TSG DERBY GIRL KNEE PAD

Top Circum.

Bottom Circum

Small

13-15.25"

12.25-13.5"

Medium

14.5 -17"

13-14.25"

Large

15.75-18.5"

13.75-15.25"
Your New Skater Package also includes:
To ensure a perfect fit, measure the circumference of your head starting in the middle of your forehead and match it with the sizes below.
XS/S 18.9-21.3in (48-54cm)
S/M 21.7-22.8in (55cm-58cm)
L/XL 23.2-24in (59-61cm)
Package also includes SISU Go Mouth Guard FREE

The SISU GO is a thin, flexible mouthguard made to be discreet and comfortable while protecting where most dental injuries happen. Equipped with Diffusix™ Technology, the perforations in SISU GO oscillate on impact and diffuse the forces to the scientifically designed crumple zones. The perforations also allow for natural flow of air and saliva, empowering athletes to talk, breathe and drink in sports where communication and hydration are key. A little dental protection goes a long way with SISU GO.
Details:
Shorter guard

Extreme comfort

Essential coverage for the minimalist

Ages 11+
$5 Savings getting Skater Bag in your package.
If your budget allows you save $5 getting Skater Bag in your package.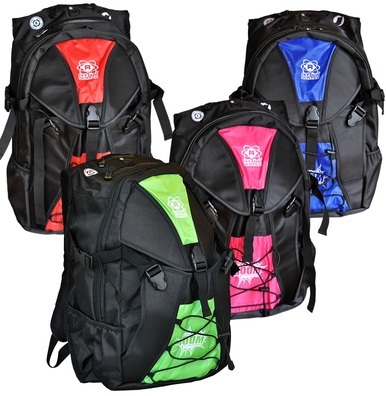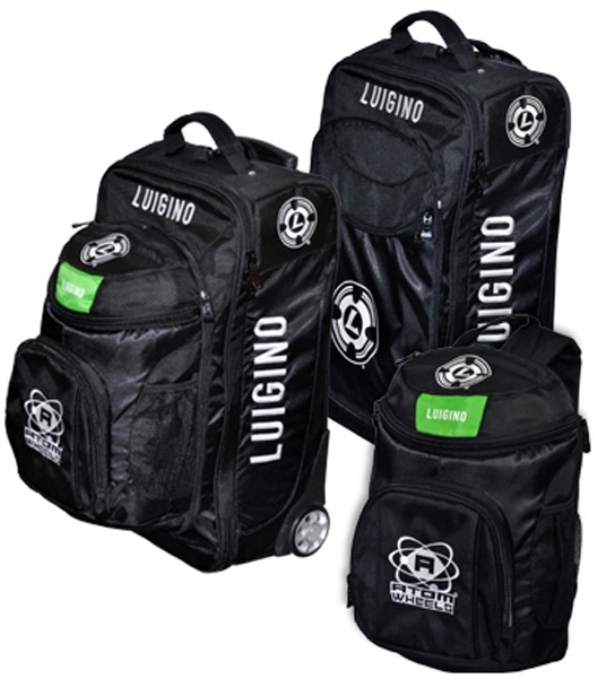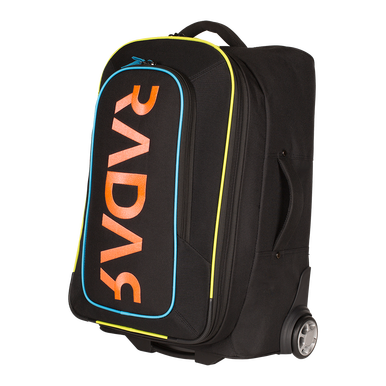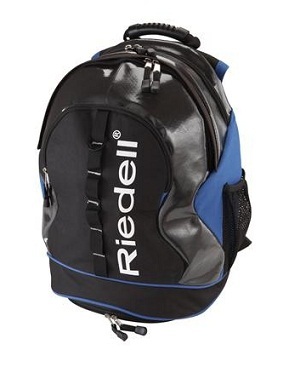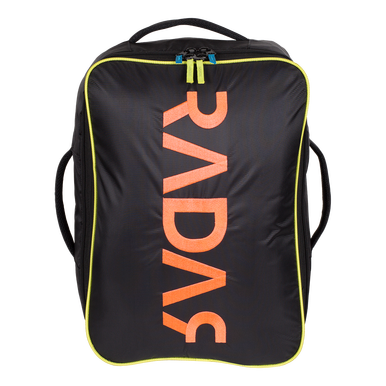 Heat Molding for Bont Boots
http://www.bont.com/inline/items/support/heat-molding.html
Bont skates are the most heat moldable skates on the market. Our resin is developed in house and has been perfected over 35 years to be an extremely stiff resin that becomes pliable at relatively low temperatures. You may have tried heat molding other brands of boots and found that you needed to increase the temperature to try to get it to mold. That is not the case with your Bont boots and we urge you to start with low temperatures.
The base of the boot is moldable which means all stiff areas of the boot can be molded in a standard oven. This is unlike most boots on the market which have uppers that are moldable. You do not need to mold your boots if they fit you straight out of the box. To mold your boots, remove the wheels. You can leave the frame on if you wish. Pre heat the oven to 85°C/185°F. Place the boot in the oven for 15-20 minutes. Higher temperatures will void your warranty and may damage your boot. Caution: Do not place your feet in the hot boots or you may burn your feet. Let them cool a little and test the boot temperature with your hand before placing your feet in them. Tighten the straps/laces/buckles and allow to cool. If you have any lumps or bunions on your feet or if there are any areas causing discomfort, while the boot is still warm you can use the round end of a blunt object to press out any part of the boot. You can heat mold the boots as many times as you like. Please watch this quick video below to see how it's done.
Heat Molding FAQ: If the boots take 20 minutes to mold at 85°C, can I put them in the oven for 10 minutes at 170°C? The answer is no. Please stick to the guidelines and your boots will not be damaged.