The Arius Platinum plate features the same revolutionary design as the original Arius with upgrades in key areas that improve performance and ease-of-use.
The toe stop bolt is now found at the very front of the Arius Platinum, instead of behind the toe stop. This provides greater clamping power for secure stops, starts and other toe stop maneuvers.
The trucks of the Arius Platinum also receive a significant update, with a "winged" truck body that securely holds the Split Butterfly Cushions in place with no need for any other stabilization or adjustment hardware.
Finished in a brilliant platinum gold color, the Arius Platinum is lighter, stronger, more stable, more powerful, more maneuverable, more durable and more efficient than any other plate available today.
Each Arius Platinum set comes with 4 sets of Split Butterfly Cushions (77A+83A+89A+95A or 80A+86A+92A+74A) so you can tailor your ride for your exact needs.
PowerDyne Arius Platinum Features:
Unmatched stability and response in a simplified, efficient design

6061 series heat-treated lightweight extruded aircraft aluminum plate

Brilliant anodized platinum gold finish

Progressive Lateral Movement creates efficient pressure, eliminating traditional stress points that cause breakage

Precision machined aluminum trucks with chromoly steel axles

Unique urethane Split Butterfly Cushion design requires no adjustment – simply install and start skating

4 sets of split cushions included for exact tuning

Sold in pairs
Split Butterfly Cushion Hardness:
71A Orange

74A Aqua (Included)

77A Lavender

80A White (Included)

83A Light Blue

86A Yellow Green (Included and Pre-Installed)

89A Royal Blue

92A Red (Included)

95A Hot Pink
https://www.roller.riedellskates.com/UserFiles/Documents/PowerDyne-Arius-Platinum-Plate-Chart.pdf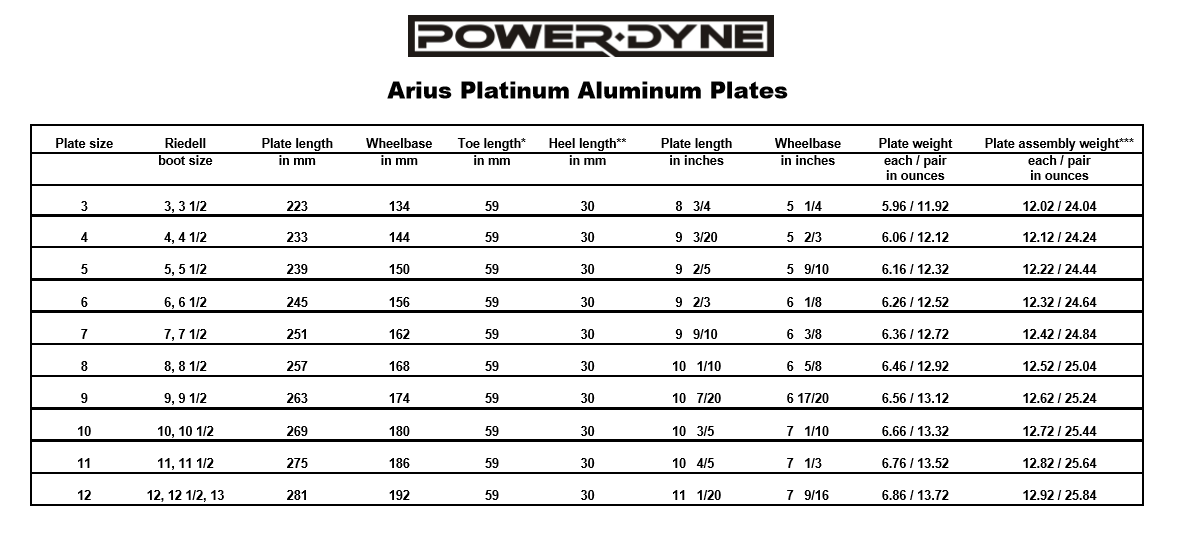 https://www.roller.riedellskates.com/UserFiles/Documents/PowerDyne-Arius-Platinum-Plate-Maintenance-Card.pdf