Moxi Lolly Classic Black is a suede high top roller skate that can be used for indoor or outdoor recreational skating.
This model is accented completely in black with painted eyelets, black laces, and black wheels, just like a true ninja prefers.
The soft leather boot breaks in quickly with minimal discomfort and forms to your foot more than less expensive synthetic skate boots.
High Top Leather Boot with Moxi lining

Powerdyne Nylon Thrust Plate

Off Set Toe Stop and Stabalizing Foot Plate

Kwik Abec 7 Bearings
They come with Moxi Gummy, Moxi Juicy or Moxi Trick wheels.
The Gummy and Juicy outdoor wheels from MOXI have a special designed core (hub) with its wide dimensions it will gives you a lot of stability as well as a precise and fast rolling. The high quality urethane is applied thickly that you can roll smooth and comfortable over surface irregularities. Also longer distances will be no problem with these MOXI wheels!
Moxi Trick Wheels for the skatepark and your dance moves at the roller rink.
These roller trick wheels are built to withstand constant being the highest quality urethane available.
SEE FITTING RECOMMENDATION.
For BEST FIT: Please order 1 full shoe size down from your regular women's street shoe size. For example, if you take either an 8 or an 8.5 in women's you will order a 7. If however you are 8.5 to 9 in women's pick the size 8.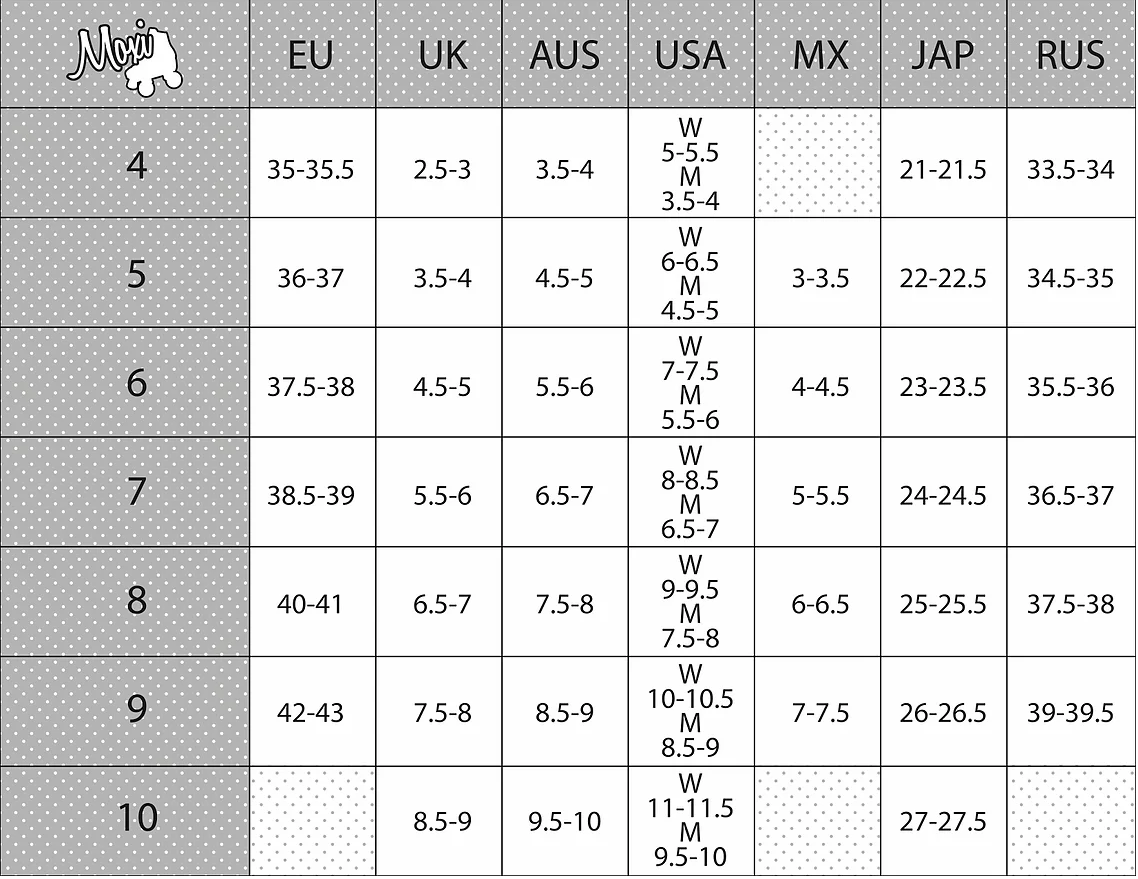 MOXI Roller Skates should fit snug throughout the toe and heel, but you should be able to move your toes a little. They should be laced tightly from the first eyelet to the hooks. Lolly Roller Skates are suede classics available in sizes 4 - 10, hand sorted 4 oz suede leather that is breathable and forgiving for maximum amount of comfort. It is best that customers lace them tightly to ensure a proper snug fit. Most women wearing the Lolly Roller Skates will find a snug fit if they go 1 - 1.5 sizes down from their regular USA street shoe size. If a skater is in between sizes it is advisable to go with the larger size. This is only information and to be used as a reference. As always sizing will vary and it is strongly recommended skaters come into the shop and try on the skates before they are purchased.
Sizes 4 -10. Full Sizes Only. Medium Width.