Riedell R3 Roller Derby skate is an popular entry level affordable skate.
This boot is man made upper (not leather)
Plates are Powerdyne Thrust Nylon Reinforced BOLTED (not riveted) to the boot with Metal Double Action Trucks - great for skaters under 200 lbs with slim foot (not a good choice if you have wide feet). Toe stops are standard Powerdyne - unless you are on a budget we encourage you to upgrade.

Boot: R3 Black
Plate: PowerDyne Thrust Nylon
Toe Stop: PowerDyne Adjustable Black with leather toe cap
Riedell Sizing:
Skates Are In Men's Sizes
(Ladies Go Down One Size)
Ladies Shoe Size 8 = Man Skate Size 7
Available Sizes: 1-14 (Half sizes not available)
Proper Fitting of Riedell Skate Boot.
To get the right size measure your foot. Do not assume that your size is the same as your regular street shoes. These skates are in men's sizes not women's.
Bad Girlfriend Skates recommends to try on the skates of other girls (or guys) on your league that wear to determine which size fits you best. - See bottom for more measurements and sizing info.
WHEELS
Bad Girlfriend Skates offer many wheel upgrades.
Pusher wheel faces the inside of the track, softer wheel to grip. Break is the harder wheel you put on side of skate facing outside of the track so you can push and brake out.
Pick wheels that you can have set of each hardness. Build your set to have 4 of each hardness so when you travel you have wheels that will work for every surface. Don't get stuck carrying 8 wheels, 8 wheels, 8 wheels of different brands and styles.
Make sure you ask your league for advice on what wheels you need for the surface you will be skating on - save yourself some cash.
Skate comes with black leather toe caps to protect the front of your skate from scuffs.
The Sonar Bracer wheels featuring an 84A urethane formula created to provide extra grip.
Radar Villain the new High Performance "Hybrid" Derby Wheel from Radar manufactured entirely in the USA. They feature Radar Quantum Urethane Radar's Hybrid formula urethane and the new Shark hub. This wheel is great for skaters needing grip due to slippery surfaces, unusual conditions, or just because they prefer a grippy wheel. The other great thing about this wheel is it can be used outdoors.
Radar Villain Size: 38mm wide x 59mm tall

Colors: White urethane with bright purple hub

Hardness: 84A
Radar Halo wheels feature an innovative, signature H-shaped hub. The inner and outer edges of the hub are oversized, which reduces the amount of urethane on the edges of the wheel making it easier to perform stops.
Designed for derby the incredibly light Halo offers grip, increases control, and improves ride. Size: 38mm x 59mm
Hardness: 86A Hub: Orange Halo Hub

Hardness: 88A Hub: Teal Halo Hub

Hardness: 91A Hub: Yellow Halo Hub

Hardness: 93A Hub: Pink Halo Hub

Hardness: 95A Hub: Blue Halo Hub

Hardness: 97A Hub: Green Halo Hub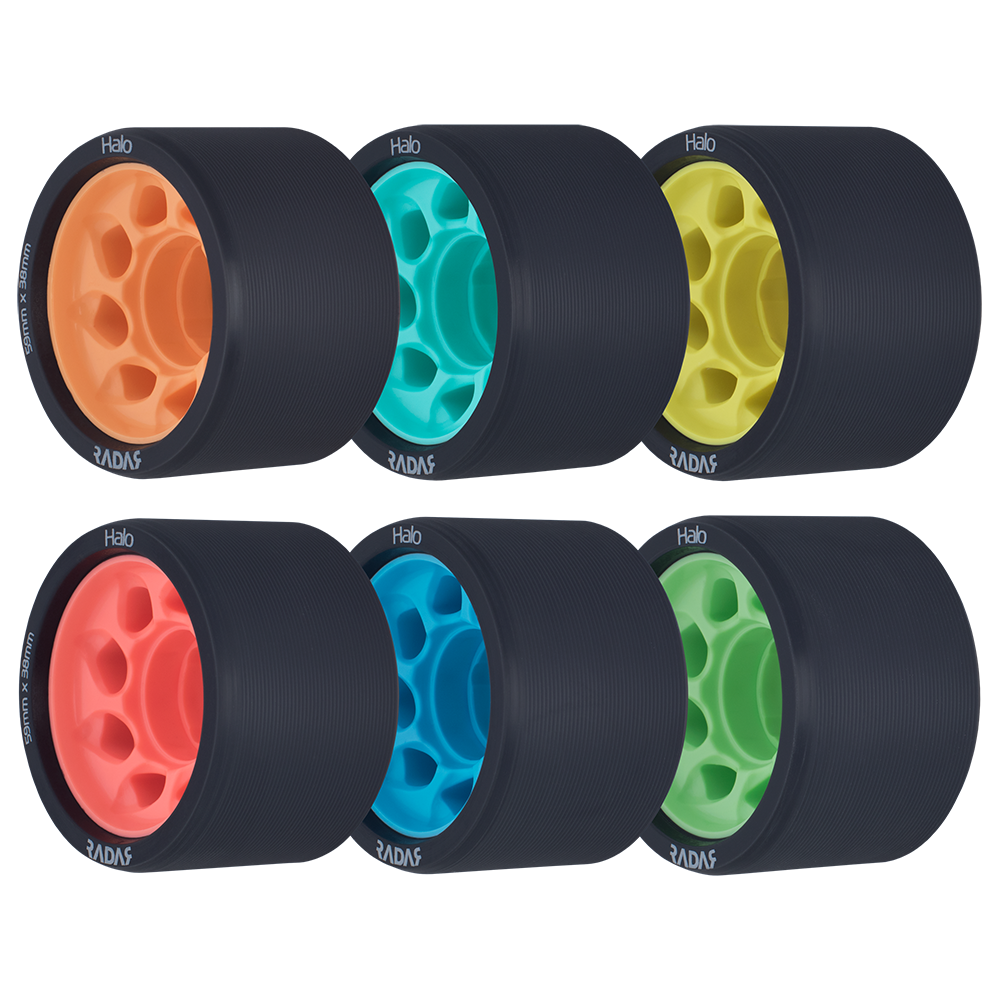 Toe Stop Upgrades
Gum Ball Roller Derby Toe Stops

Aside from my toe stop falling off on my second skate, I find these skates comfortable and they fit well around my ankles. They are quite "zippy", so for a beginner skater, like me, can be a bit tricky.