Riedell Solaris introduces cutting edge technology and design that will re-define performance and comfort standards for quad boots.
Available in sizes 3.5 - 12, Full and Half Sizes (split sizing also available)
Width is contourfit C/AA
Snug AA heel size eliminates lifting, C width ball accommodates narrow and wide feet, and modern shape toe improves toe comfort
Uppers are black Kanga-Tan full grain leather
Liner is Strata Microfiber Liner. Tight weave, antimicrobial perforated microfiber lining with moisture and odor resistant treatment.
Ankle closure is V-Lock Strap. High-tensile polyester webbing strap is positioned low to definitively lock the heel in place,preventing heel movement and slippage.
Anatomical curved collar made from supple, glove leather, cradles the ankle for maximum range of motion and comfort.
Fox tongue with dual density foam padding. Premium open cell foam topped with closed cell foam offers abundant comfort, durability and protection from lace bite.
Dynamic response outsole is a state of the art, two piece outsole/midstream system. The inner piece or the midsole is made from polycarbonate and offers strength, rigidity and durability. The Dynamic Response Outsole is made from polyurethane and offers dampening. The rigidity and strength offer great response while the dampening property makes it very comfortable to skate.
The polycarbonate midsole is designed and manufactured specifically for our last, giving it contours not found in flat carbon fiber or fiberglass quad skating boots. These contours hug and support the natural contours of the foot. By contrast, carbon fiber and fiberglass shells of quad skating boots are typically made by bonding flat layers of the material to each other, resulting in a flat footbed that does not support the natural shape and contours of the foot. This can cause pain, numbness, cramping and decreased performance.
DHC-7 Heat Moldable. All four quarters of the boot are lined with heat moldable counters.
Waxed infused laces hold firmly, do not stretch or leave irritating sticky clumps of wax like like standard coated laces.
Riedell Solaris Neo Set includes the Powerdyne Reactor Neo Aluminum Plate, Radar Halo wheels, Kwik Zenith bearings and Powerdyne Jupiter toe Stops.
SIZING Speed Skates Are In Men's Sizes 3.5 -12 including half sizes.(Ladies Go Down One Size) Ladies Shoe Size 8 = Man Skate Size 7
To measure accurately use the link below
Proper Fitting of Riedell Skate Boot.
https://www.roller.riedellskates.com/sizing-help
Finding a pair of boots that fit properly can be very challenging – no two feet are exactly alike and every boot model has a distinct design that can affect how it feels. To add to the confusion, most skate boot manufacturers have unique sizing that differ from street shoe sizing. For Riedell boots, the proper size for you will depend greatly on which last the boot is built on. Please come in and try this boot on before you purchase it. It is strongly recommended you try before you buy to ensure fit.

*Any boot model can be made on any last listed above, custom widths, and custom colors. Special makeup charges may apply. Please allow 3-4 weeks for delivery.

*When ordering any special makeup boot in different colors or special widths, it's always advisable to first try on a stock boot to make sure the sizing is correct as special order custom boots and colors are not refundable.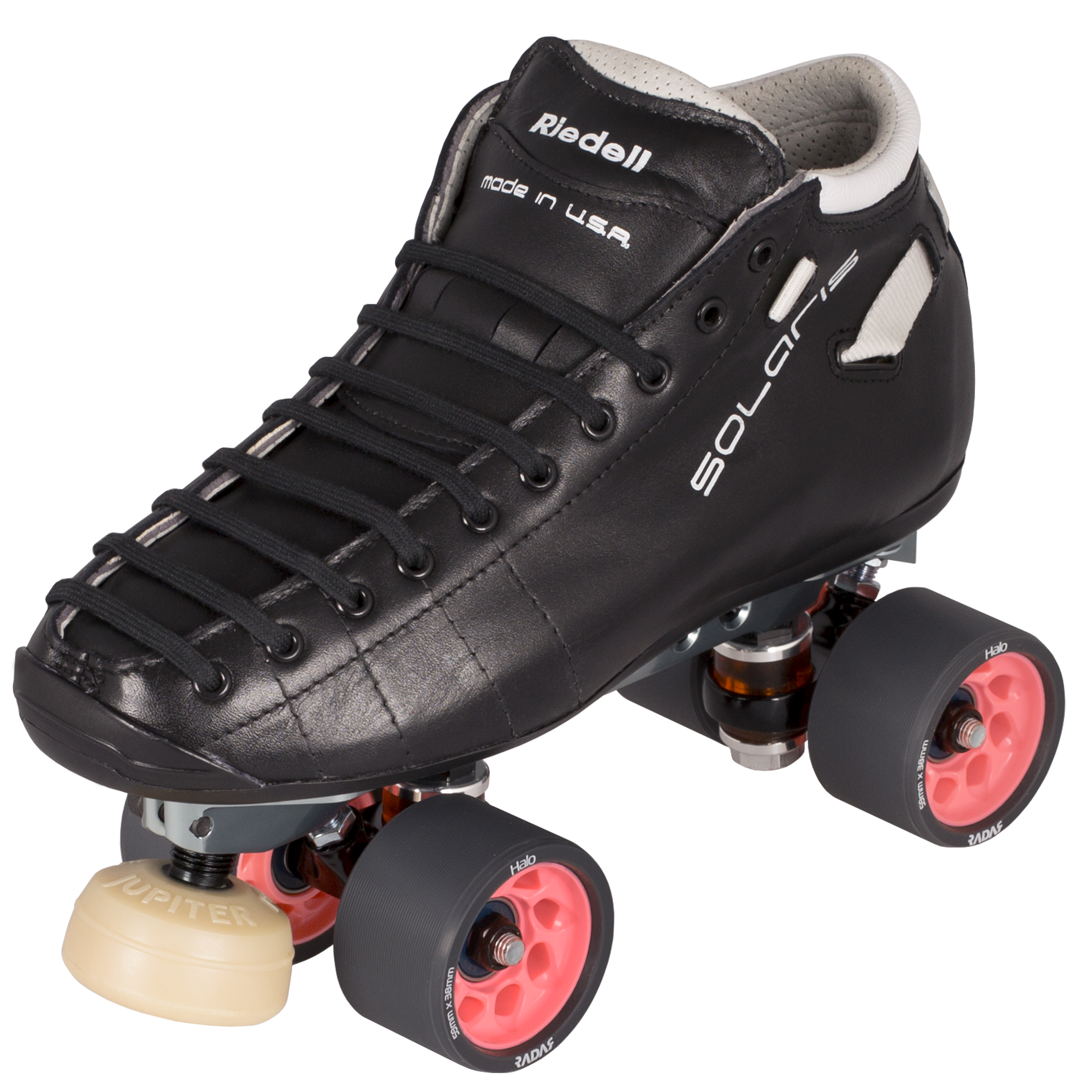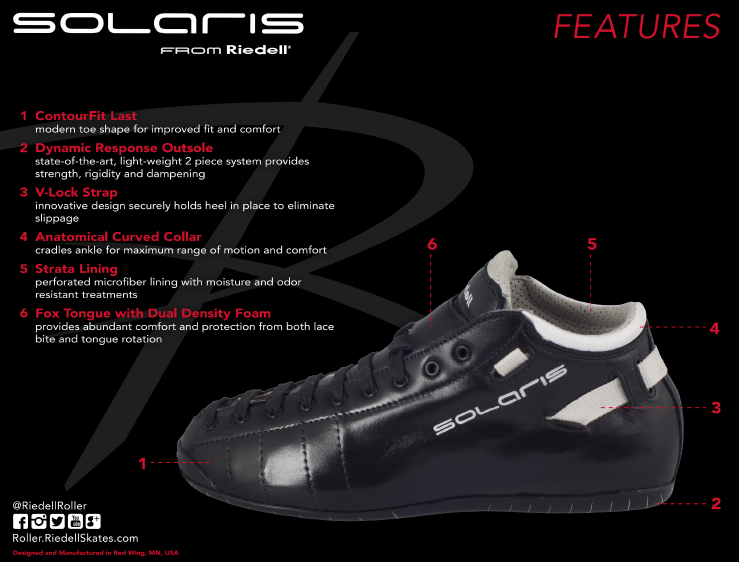 The Solaris is available for ColorLab™ for only an additional $105.00 CAN to the price of the boot.
You can order your dream ColorLab Solaris through Bad Girlfriend Skates. Simply follow these steps to order your ColorLab Solaris boots:
Download and complete our

Solaris ColorLab Order Form PDF

This PDF shows all the parts of the Solaris that you can color, the various leather colors that are available for each part, and lets you select logo, lace, and eyelet colors.

Be sure to have your Riedell size. If you are not sure what size Solaris you need, you should visit Bad Girlfriend Skates to get properly sized, or you can use the

Online Sizing Guide

as a recommendation.

Email or bring the form (printed or electronic) to Bad Girlfriend Skates to complete your order.
The turnaround time for a pair of Solaris ColorLab boots is approximately 4 - 6 weeks.
PowerDyne Reactor Neo Plate is a performance aluminum plate replacing the Rival Plate. This plate shares many of the same design elements as the Reactor Pro but at a fraction of the cost.
The 10° kingpin promotes more power and stability when compared to the 15°+ plates on the market.
The kingpin features click-action adjustment for precise customization, while the trucks are two-piece fixtures with lightweight aluminum hangars and chromoly steel axles.
The Reactor Neo parts are compatible/interchangeable with the Reactor Pro plates.
10 Degree Kingpin Angle

"Click" Action Adjustment

1 Pieces Delrin Pivot Cups

Rounded Toe Edge Design

Silver Anodized Finish

Parts 100% compatible with Reactor Pro Series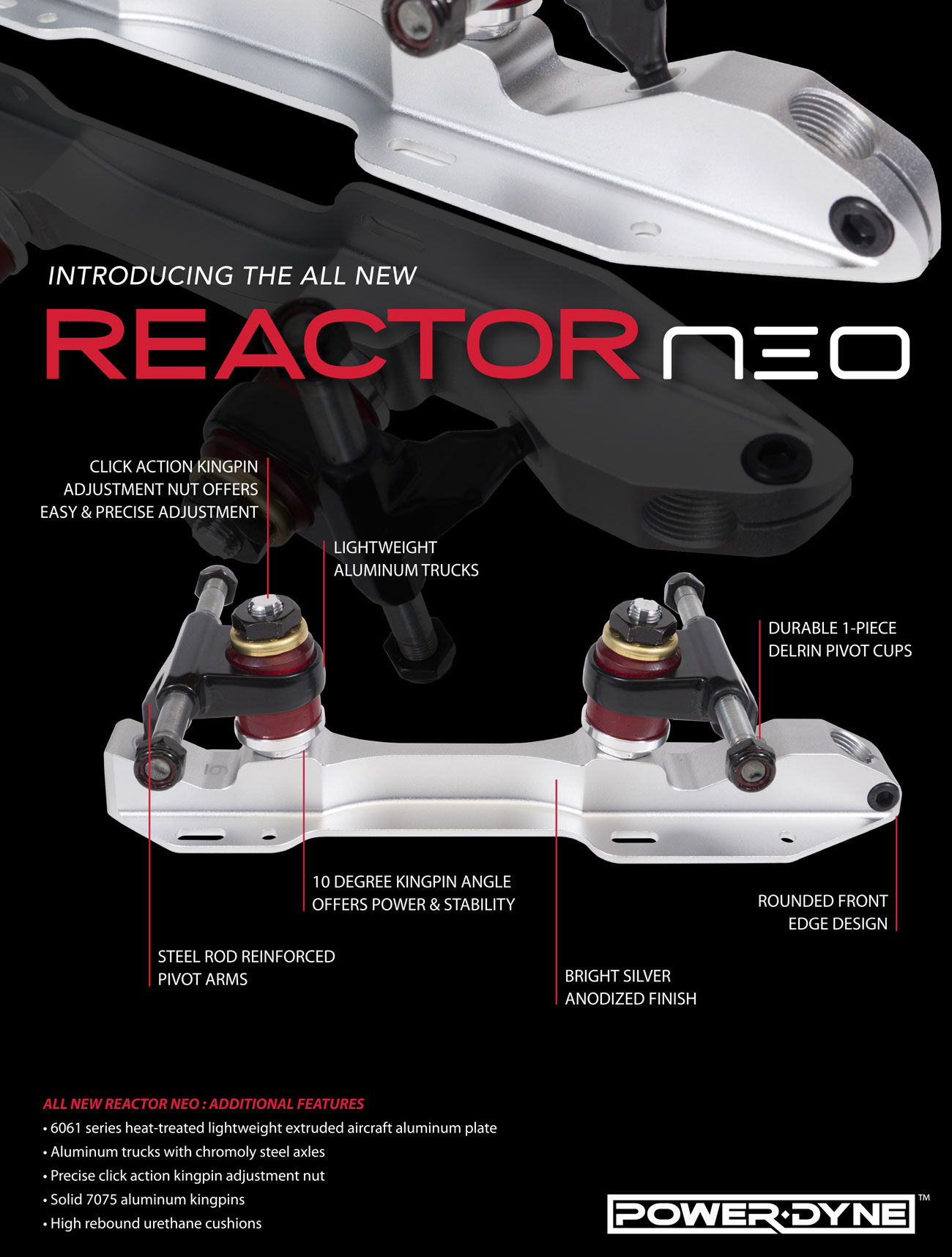 https://www.roller.riedellskates.com/UserFiles/Documents/PowerDyne-General-Roller-Plate-Maintenance-Card.pdf
Jupiter Toe Stop
Riedell is introducing the Jupiter Toe Stop from Powerdyne.
The Jupiter Toe stop is grippy, non marking and long lasting
A 54 mm diameter surface and 57 mm overall height
The signature bell shape and hollow forged aluminum stem reduces weight and keep skaters nimble.
Grippy, non-marking, natural rubber

Massive flat surface for stability

Signature dimples for extra bite

Bell Shape provides large surface and lightweight design

54 mm diameter stopping surface

57 mm overall height

Molded safety line indicates when rubber is worn to stem

Hollow forged 28mm annodized black aluminum stem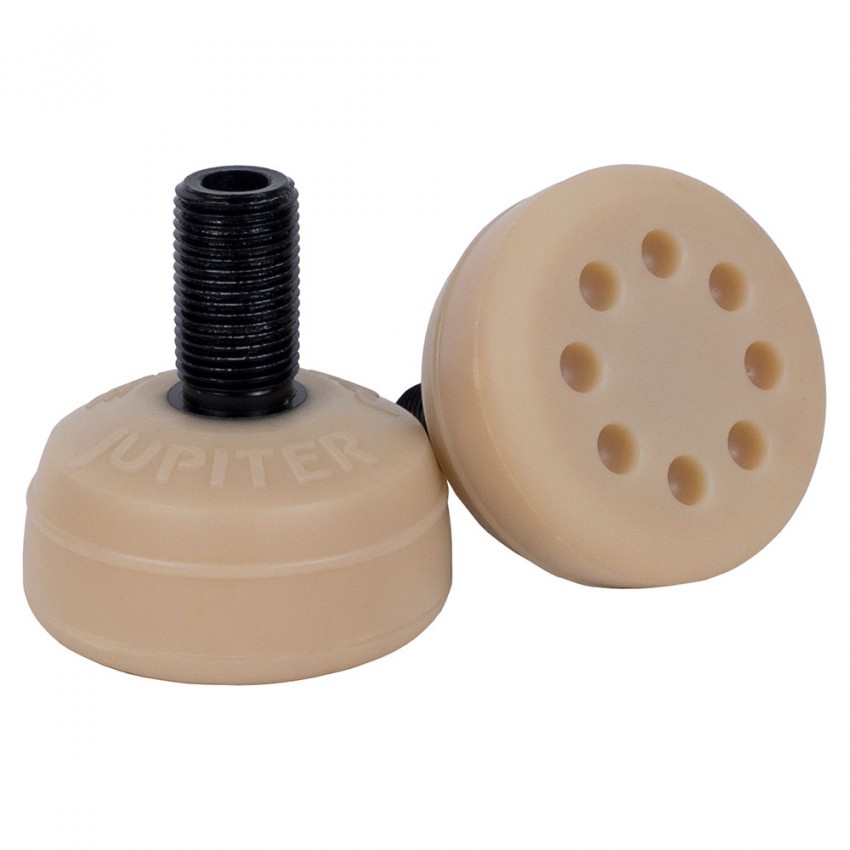 KWIK Zenith bearings are constructed of chrome steel races, heat-treated alloy balls and friction resistant Delrin retainters, pre spun with high performance oil. An ABEC rating is not used for this bearing, but it rolls like that of an ABEC9 or Swiss bearing. Kwik Zenith bearings are designed for minimal maintenance with maximum performance. An ABEC rating is not used for this bearing, but it rolls like that of an ABEC9 or Swiss bearing.
Pre-spun with high peformance oil

No break-in required

Max performance with little maintenance

High polish chrome steel races, heat-treated alloy balls and friction resistant Delrin® retainers

Smooth and Fast

16pk of 8mm bearings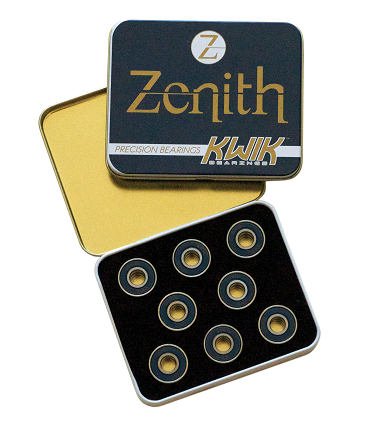 Thinking of custom skates with your colors that suit your style?
Right click and open in a new tab so you can stay on our page.
http://www.roller.riedellskates.com/colorlab/index.html
Warranty: Each pair of Riedell skates or skating boots is guaranteed by Riedell Shoes, Inc. to be free from defects in materials and workmanship under normal use for a period of 90 days from the date of purchase. Should any Riedell skates or skating boots appear to be defective, they should be returned to the dealer from whom the product was purchased with proof of purchase. The dealer must request a return authorization number and then send the skates or skating boots back to Riedell Shoes, Inc. along with the proof of purchase for inspection and determination. If the skates or skating boots appear to be defective under the terms of this warranty, they will be repaired or replaced as determined by Riedell Shoes, Inc. Product failure, which in the opinion of Riedell Shoes, Inc. was due to improper fit, accident, abuse, neglect, or normal wear and tear is not covered by this warranty. In no event will Riedell Shoes, Inc. be responsible for the repair, replacement or consequential damages for the above mentioned causes.
I love these skates! Upgrading from my first derby gear has been such a great change. These fit perfectly and the customer service was awesome.

Amazingly comfortable skates. The lacing system is great for stopping heel slip while leaving the rest of the foot with a little breathing room. You definitely get what you pay for with these babies. Also, consistently awesome service from Bad Girlfriend Skates .